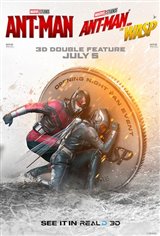 Ant-Man + Ant-Man and The Wasp 3D Double Feature
Ant-Man + Ant-Man and The Wasp 3D Double Feature
On Thursday, July 5th, Marvel Cinematic Universe fans can be among the first to experience Ant-Man and The Wasp at the double feature fan event!
Ant-Man (2015)
With the ability to shrink in but grow in strength, a con man (Paul Rudd) must help his mentor (Michael Douglas) protect the secret of his Ant-Man suit and pull off a heist that will save the world.
Ant-Man and The Wasp (2018)
As Scott Lang balances being both a Super Hero and a father, Hope van Dyne and Dr. Hank Pym present an urgent new mission that finds the Ant-Man fighting alongside The Wasp to uncover secrets from their past.