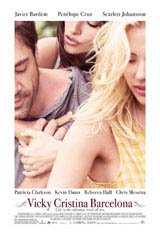 Vicky Cristina Barcelona
Two young American women, Vicky (Rebecca Hall) and Cristina (Scarlett Johansson) come to Barcelona for a summer holiday. Vicky is sensible and engaged to be married; Cristina is emotionally and sexually adventurous. In Barcelona, they're drawn into a series of unconventional romantic entanglements with Juan Antonio (Javier Bardem), a charismatic painter, who is still involved with his tempestuous ex-wife Maria Elena (Penélope Cruz).
Set against the luscious Mediterranean sensuality of Barcelona, Vicky Cristina Barcelona is Woody Allen's funny and open-minded celebration of love in all its configurations.