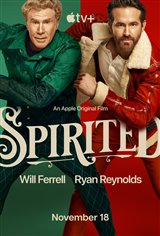 3.75/5
Based on 8 votes and 4 reviews.
25.00%

25.00%

50.00%

0.00%

0.00%
Please rate between 1 to 5 stars
Showing 1-4 of 4 reviews
November 29, 2022
I really enjoyed this show, and I'm not a musical fan. It was very funny and quite touching, and a good overall message of redemption, healing and love. Although there wasn't much, I would have preferred less innuendos/ crudeness, and more family friendly. Then again, it IS Ryan Reynolds...
November 23, 2022
Ryan Reynolds was exceptional and Will Ferrell stole the show. Great musical. Most fun I've had at a movie in many many years. Need the big screen to fully enjoy all the movement.
November 21, 2022
Ryan Reynolds and Will Ferrel were in this, but this was kind of weird. Not bad but not the best either.
November 21, 2022
This movie was funny but it felt like forever watching it. When ryan reynolds flying into the back of the truck was so funny. It was ok and i would not see it in theaters.