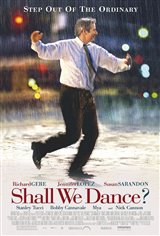 Shall We Dance?
For longer than he can remember, John Clark (Richard Gere) has led a dull existence... and even with a successful career, charming wife (Susan Sarandon) and loving family, he still feels something is missing as he makes his mind-numbing commute through the city each day.

But one night, on his evening ride home, he looks up to see a beautiful woman (Jennifer Lopez) staring through the window of a dance studio. Haunted by her gaze, John impulsively jumps off the train and signs up for dance lessons... and his whole life begins to change.

Now, he's entering a world he never imagined - the colorful world of competitive ballroom dancing. It's a place filled with grand passions, bitter rivalries, great friends and strange couples and it's about to reignite the excitement in John's life - not to mention the lives of his family, dance instructors and fellow classmates - in ways he's never dreamed.