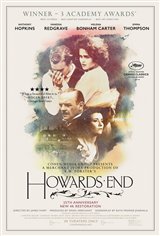 Howards End - Restored in 4K
Howards End - Restored in 4K
Margaret Schlegel (Emma Thompson) and her sister Helen (Helena Bonham Carter) become involved with two couples: wealthy, conservative industrialist Henry Wilcox (Anthony Hopkins) and his wife Ruth (Vanessa Redgrave), and working-class man Leonard Bast (Samuel West) and his mistress Jacky (Niccola Duffet).
Helen and Paul Wilcox (Joseph Bennett), Henry and Ruth's youngest son, get engaged, but soon realize they've made a mistake and break it off mutually. Later, Margaret and Ruth renew their acquaintance. The Wilcoxes live at Howard's End, which Ruth has inherited through her family.
The fates and misfortunes of these three families are interwoven and connected to the ownership of Howards End.
Based on E.M. Forster's classic 1910 novel about class relations and changing times in Edwardian England.