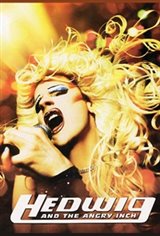 Hedwig and the Angry Inch
Hedwig and the Angry Inch
A German-born singer named Hansel (Mitchell) searching for his other half reluctantly undergoes a sex-change operation so he can marry an American G.I. and escape to freedom. The operation goes wrong and Hansel is left with an "angry inch", and soon finds herself divorced and abandoned in a Kansas trailer park.

Pursuing her dreams of stardom, she renames herself Hedwig, forms a rock band and encounters young Tommy Gnosis (Pitt), who becomes her lover but steals her songs and uses them to become a big star himself.

Hedwig and her band, the Angry Inch, follow Tommy on his national tour and try to capitalize on Hedwig's tabloid-created reputation as Tommy's ex-lover. Performing at near-empty seafood restaurants across the country, Hedwig tells her life story to her audiences and takes them a rocking ride in a search for her dreams.

Based on the hit off-Broadway musical of the same name.
| | |
| --- | --- |
| Cast: | Michael Pitt, John Cameron Mitchell, Miriam Shor, Andrea Martin, Alberta Watson, John Mitchell, Stephen Trask, Theodore Liscinski, Michael Aranov, Ben Mayer-Goodman, Gene Pyrz, Karen Hines, Max Toulch, Maurice Wint, Ermes Blarasin |
| Director: | John Cameron Mitchell |
| Studio: | Killer Films |
| Producer(s): | Christine Vachon, Katie Roumel, Pamela Koffler |
| Writer(s): | John Cameron Mitchell |
| Official Site: | www.hedwigmovie.com |