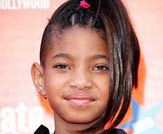 Willow Smith Biography
WILLOW SMITH
Date of Birth: October 31, 2000
Born in Los Angeles California, Willow Smith is the daughter of superstar rapper/actor Will Smith and actress Jada Pinkett Smith. Making her feature film debut at age six in I am Legend alongside her father, Willow was nominated for Best Performance in a Feature Film for an Actress Ten or Younger at the Young Artist Awards.
In 2009, Willow and the rest of the young cast (including Abigail Breslin) won a Young Artist Award for Kit Kittredge: An American Girl, in which Willow played Countee Garby, a homeless girl who disguises herself as a boy. On TV, Willow played a recurring role as Young True on Nickelodeon's True Jackson, VP.
In 2010, Willow signed on to Jay-Z's record label, Roc Nation, which boasts chart-toppers like Rihanna and released her first single, "Whip My Hair." Her older brother Jaden is also an actor, having first appeared opposite their father in The Pursuit of Happyness. She and Jaden and their older half-brother Trey Smith are youth ambassadors for Project Zambia, which assists children orphaned by AIDS in Africa.
Filmography