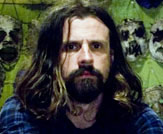 Rob Zombie Biography
ROB ZOMBIE
Date of Birth: January 12, 1966
Birth name: Robert Cummings
Rob Zombie was born in Haverhill, Massachusetts to a family of circus performers that toured around the eastern states of the USA. As a child, he was annoyed that he had to spend every summer at carnivals, but when he grew older, he learned to appreciate the experience, as it formed the vision for what his rock concerts would become. Although the first films he saw were 101 Dalmations and Willy Wonka and the Chocolate Factory, Rob says he grew up attracted to the dark side of things and loved watching horror films. In 1985, he formed a heavy metal rock group called White Zombie, named after a 1932 Bela Lugosi movie.
Although his band was taking off, Zombie's lifelong ambition was to make movies and he had a small taste of being behind the scenes when he landed a job as production assistant on the television series Pee-Wee's Playhouse in 1986. After landing a recording deal, Rob and White Zombie moved to Los Angeles. Besides recording and touring with White Zombie, Rob also began to compose songs for feature films, such as The Cable Guy (1995), The Crow: City of Angels (1996), The Matrix (1999) and The Matrix: Reloaded (2003). An avid illustrator, Zombie does the artwork for the band's CDs and posters, and also directs their music videos.
Impressed with his work on the music videos, the producers of The Crow: Salvation (2000) asked Zombie if he would like to direct the film. Unfortunately, the deal eventually fell through, but intent on moving into filmmaking, Zombie wrote the screenplay for a film entitled House of 1000 Corpses(2003). He also directed the film, about four young people who are set upon by a family of psychotics when their car breaks down. Made on a low budget of $7 million, the film grossed over $12 million at the box office, enabling Zombie to follow it up with The Devil's Rejects (2005).
Zombie's favorite time of year is Halloween, and he tends to leave the decorations up year round. He was thrilled to be able to direct the remake Halloween (2007), and its sequel, Halloween II (2009). In 2010, Zombie tried his hand at TV by directing an episode of CSI: Miami. Two years later, he reteamed with his wife Sheri Moon, star of his past films, for the Salem, Massachusetts-set thriller The Lords of Salem. He took a bit of a break from film, but returned in 2016 with the horror flick 31, about a group of sadistic clowns who terrorize five carnies. It stars Sheri Moon, Jeff Daniel Phillips, Meg Foster and Malcolm McDowell. Zombie has a one-eyed pet rat that he found wandering down Sunset Boulevard, whom he claims is "super clean and super smart." He continues to tour and release CDs with his band when he's not working on a movie.
Filmography:
31
(2016)
The Lords of Salem
(2012)
Tyrannosaurus Rex (2011)
Halloween II
(2009)
Halloween
(2007)
Grindhouse
(2007)
The Devil's Rejects
(2005)
House of 1000 Corpses
(2003)
Filmography