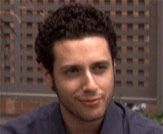 Paulo Costanzo Biography
PAULO COSTANZO
Date of Birth: September 21, 1978
Born in Brampton, Ontario, Paulo Costanzo starred as Tony in the musical West Side Story at Mayfield Secondary School.
At 18, he made his television debut with a guest role on the Canadian teen series Ready or Not. More television work followed, including a recurring role on the Toronto-filmed Nickelodeon sci-fi series Animorphs.
Costanzo made his big screen debut as Rubin in the Dreamworks comedy Road Trip (2000). From there, he went on to play Alexander Cabot III, the manager of the fictitious pop-rock band in the movie Josie and the Pussycats (2001). More roles followed, including playing opposite Josh Hartnett in 40 Days and 40 Nights (2002) for Miramax, and with Alicia Silverstone in the independent film Scorched (2003).
But it was in 2004, when he landed a role as Joey's nephew Michael, a rocket scientist who lives with his mother and has no luck with the ladies on the Friends spinoff Joey that he became well known. Costanzo stayed with the show for the duration of its two-year run, then landed a starring role in the Canadian flick Everything's Gone Green (2007), filmed in Vancouver. His most recent gig is the recurring role of Evan R. Lawson in the television series Royal Pains. Costanzo also stars in the feature film A Beginner's Guide to Endings (2012) about three brothers who learn they have just a few days left to live.
In addition to his television and film work, Costanzo has performed on stage in various Canadian productions.
Filmography:
A Beginner's Guide to Endings (2012)
Old Dogs (2009)
Splinter (2008)
Everything's Gone Green (2006)
Puff, Puff, Pass (2006) (uncredited)
A Problem with Fear (2003)
Scorched (2003)
40 Days and 40 Nights (2002)
Gypsy 83 (2001)
Josie and the Pussycats (2001)
Road Trip (2000)
Filmography