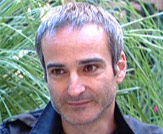 Olivier Assayas Biography
OLIVIER ASSAYAS
Date of Birth: January 25, 1955
Olivier Assayas, the son of respected French director/screenwriter Jacques Remy, was born in Paris, France. Growing up around film studios, he developed an early interest in filmmaking, but instead opted to study literature and painting. When his father became ill, Assayas helped him, first as a secretary, then ghostwriting several scripts for the TV series Maigret.
In the meantime, he also made short films. But sensing that his first shorts were immature, he thought the problem was his writing. So when the editors of Cahiers du Cinema offered him an opportunity to write for the magazine, he took it. For him, writing about film was a way of approaching the medium to try to solve questions about how to make films, how to work with actors, and how to approach film as an art. Between 1980 and 1985, Assayas became an editor and significant contributor to the magazine, publishing extensive studies on American horror films and Hong Kong cinema.
In 1985, Assayas began screenwriting. He collaborated with André Téchiné on the scripts for Rendezvous (1985) and Scene of the Crime (1986). In 1986, Assayas directed his first feature, the stylized teen psychodrama Désordre, which won the Critics Prize at the Venice Film Festival. He came to the attention of North American film audiences with his third film, Paris S'Eveille (1991), which screened at the Film Society of Lincoln Center in New York and won the Prix Jean Vigo at the festival of the same name.
Irma Vep (1996) was Assayas's first film to be commercially released in North America. It debuted at the Cannes Film Festival and screened at many others, including the Toronto International Film Festival, and won the KNF award at the Rotterdam International Film Festival. Still faithful to his critical roots, in 1997, Assayas directed a documentary on Taiwanese filmmaker Hou Hsiao-Hsien titled HHH: A Portrait of Hou Hsaio-Hsien. Late August, Early September (1998) premiered in Toronto and was nominated for a Golden Seashell at the San Sebastian International Film Festival.
Les Destinées Sentimentales (2000) was nominated and won several awards, including the 2000 Audience Award, at the Cinemania Film Festival and 2004 Best Director at the Muscat Film Festival. Demonlover (2002), starring Chloe Sevigny, Gina Gershon, Connie Nielson and Charles Berling, premiered at Cannes and won awards at other festivals where it played. Clean (2005) premiered at Cannes in 2004 and starred Assayas's ex-wife, Maggie Cheung, who won Best Actress at the festival.
Later in the decade, he wrote and directed the thriller Boarding Gate (2007) with Asia Argento and Michael Madsen, as well as the drama Summer Hours (2008) with Juliette Binoche.
His more recent efforts include the dramas Something in the Air (2012) and Clouds of Sils Maria (2014) with Juliette Binoche, Kristen Stewart and Chloë Grace Moretz.
Assayas' latest work is the mystery drama Personal Shopper (2017), for which he won the Best Director prize at Cannes. The film reunites him with Kristen Stewart.
Assayas also co-wrote the 1990 interview book Conversation avec Bergman, about Swedish filmmaker Ingmar Bergman. Assayas still makes his home in his native land.
Filmography:
Personal Shopper
(2017)
Clouds of Sils Maria
(2014)
Something in the Air
(2012)
Summer Hours
(2008)
Boarding Gate
(2007)
Clean
(2005)
Demonlover
(2002)
Les Destinées Sentimentales (2000)
Late August, Early September (1998)
HHH: A Portrait of Hou Hsaio-Hsien (1997)
Irma Vep
(1996)
L'Eau Froide (1994)
Une Nouvelle Vie (1993)
Paris S'Éveille (1991)
L'Enfant de L'Hiver (1989)
Désordre (1986)
Filmography