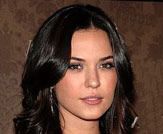 Odette Yustman Biography
ODETTE YUSTMAN
Date of Birth: May 10, 1985
Born in Los Angeles, Odette Yustman started her career at the early age of five with a small role in the movie Kindergarten Cop (1990) starring Arnold Schwarzenegger. Her background is Colombian, French and Italian on her father's side and Cuban on her mother's side, so she grew up speaking Spanish at home.
As a child, she also appeared in the TV movie Remembrance (1996) and the feature film Dear God (1996), starring Greg Kinnear and directed by Garry Marshall. After graduating from high school, she was able to devote more time to her career and landed a recurring role on the UPN drama series South Beach, playing Arielle.
Following small roles in major motion pictures such as The Holiday (2006) starring Kate Winslet, Tranformers (2007) starring Shia LaBeouf and Walk Hard: The Dewey Cox Story (2007), Yustman landed a starring role on the ABC TV drama series October Road.
She soon found herself as part of the ensemble cast of the box office hit Cloverfield (2008), for which she received a Teen Choice Award nomination as Choice Movie Actress: Horror/Thriller. Her first starring role in a feature film was in David S. Goyer's The Unborn (1999), playing a young woman who is slowly being possessed by a spirit. Her co-stars in the film include Gary Oldman and Twilight's Cam Gigandet.
Yustman was engaged to actor Trevor Wright in 2009 but is now dating actor Dave Annable.
Filmography:
You Again
(2010)
The Unborn
(2009)
Cloverfield
(2008)
Walk Hard: The Dewey Cox Story
(2007)
Transformers
(2007)
The Holiday
(2006)
Dear God (1996)
Kindergarten Cop
(1990)
Filmography