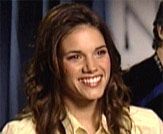 Missy Peregrym Biography
MISSY PEREGRYM
Date of Birth: June 15, 1982
Born in Montreal, Quebec, Missy Peregrym's family-her minister father, her mother and her two sisters-moved to Surrey, B.C. when she was small. At 18, she began modeling for print ads. Commercials and television work soon came her way, and she made her acting debut at 19 in an episode of Dark Angel, filmed in Vancouver.
After a guest appearance on The Chris Isaak Show, Peregrym won a regular role on the short-lived series Black Sash. Though the show was quickly cancelled, she continued to landguest appearances on Tru Calling, Smallville and Andromeda, eventually winning another regular role, this time in ABC's teen drama series Life As We Know It, co-starring Kelly Osbourne. Unfortunately, the show folded after just 13 episodes.
When a call went out from Disney for a young actress to play a rebellious teenage gymnast, Peregrym decided to go for it. Although she had no gymnastic experience, she was a star soccer player with snowboarding, lacrosse and field hockey in her background. At 22, she made her film debut in a starring role as Haley Graham in the film, called Stick It (2006), and immediately underwent months of grueling gymnastics practice. "I had major back problems during [filming]," she told Tribute TV. "I've never had back problems in my life." As well, she developed "tendonitis in my knees and my elbows. Everything hurts. My toes would hurt!" She also had to relearn the way she did cartwheels and front handsprings when she was told her form was all wrong. Needless to say, she developed new respect for the sport.
Peregrym continues to live in Vancouver.
Filmography:
Stick It(2006)


Filmography