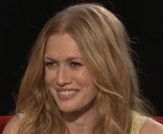 Mireille Enos Biography
MIREILLE ENOS
Date of Birth: September 22, 1975
Mireille— a name derived from the French word meaning "wonderful" (merveilleuse)—Enos was born in Houston, Texas and is known for her TV performances as Sarah Linden on AMC series' The Killing and twins Kathy and Jodeen Marquart on the HBO drama series Big Love.
The fourth child of five, Mireille was born to Mormon parents. She followed in the footsteps of her siblings and attended The High School for the Performing and Visual Arts in Houston, then continued her studies at Brigham Young University where she won a prestigious acting scholarship. Mireille and her two sisters Veronique and Jongiorgi became actors.
Mireille made her screen acting debut in the 1994 TV movie Without Consent. Appearances in numerous TV series followed, including Sex and the City, Numbers, CSI: Miami, Lie to Me, and Law & Order: Criminal Intent. She had regular roles in Big Love and The Killing, and earned an Emmy nomination and a Critic's Choice Award nomination for her work in the latter.
In 2005, Mireille was nominated for a Tony Award for "Best Featured Actress in a Play" for the Broadway production of Who's Afraid of Virginia Woolf.
Following her feature debut in the 2001 release Someone Like You... starring Ashley Judd, Mireille didn't appear in another feature until 2013, when she played Connie O'Mara, the wife of Sergeant John O'Mara (Josh Brolin), in Gangster Squad, who cleverly helped him recruit the best possible fellow officers for his squad.
Mireille, who holds a black belt in Tae Kwon Do, also plays a major role in the 2013 apocalyptic film World War Z opposite Brad Pitt. She is married to Ferris Bueller's Day Off star Alan Ruck and they have one daughter, Vesper Vivianne Ruck.
FILMOGRAPHY:
World War Z (2013)
Devil's Knot (2013)
Gangster Squad (2013)
Someone Like You… (2001)
Filmography