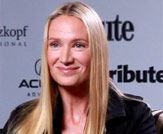 Kelly Lynch Biography
KELLY LYNCH
Birth Name: Kelly Colleen Lynch
Date of Birth: January 31, 1959
Born in Minneapolis, Minnesota, Lynch started her acting career with a small job at the Guthrie Theater. After moving to New York, she studied under acting teacher Sanford Meisner and became a model for the famous Elite Modeling Agency. She would soon segue into acting when director Roger Donaldson cast her in his film Cocktail opposite Tom Cruise.
She first gained attention for acting in the Gus Van Sant film Drugstore Cowboy (1989), playing Matt Dillon's junkie wife. Lynch's performance earned her critical praise including an Independent Spirit Award nomination for Best Actress. She received her second nomination for the independent film The Beans of Egypt, Mainewith Martha Plimpton.
Other film credits include White Man's Burdenopposite John Travolta, Virtuosityopposite Denzel Washington and Russell Crowe, Three of Heartsopposite William Baldwin, Curly Suefor director John Hughes and Imaginary Crimesopposite Harvey Keitel.
In 1992 Lynch was offered the lead in the thriller Basic Instinct but turned it down. Sharon Stone took the part instead and became a huge star. In 1996 she began doing commercials for L'Oréal hair color products.
In the late '90s she had roles in the box office failures, Mr. Magoo (1997) and Homegrown (1998). She then played a supporting role in the remake of the popular '70s television show Charlie's Angels (2000). More recently, she took part in The Jacket (2005), starring Adrien Brody.
Lynch is married to screenwriter Mitch Glazer. They have one daughter.
Filmography:
At Last (2005)
The Visitation (2005)
The Jacket (2005)
Dallas 362 (2003)
The Slaughter Rule (2002)
Joe Somebody (2001)
Charlie's Angels (2000)
Homegrown (1998)
Mr. Magoo (1997)
Cold Around the Heart (1997)
Persons Unknown (1996)
Heaven's Prisoners (1996)
White Man's Burden (1995)
Virtuosity (1995)
The Beans of Egypt, Maine (1994)
Imaginary Crimes (1994)
Three of Hearts (1993)
Curly Sue (1991)
Desperate Hours (1990)
Drugstore Cowboy (1989)
Road House (1989)
Warm Summer Rain (1989)
Cocktail (1988)
Bright Lights, Big City (1988)
Osa (1985)
Portfolio (1983)
Filmography