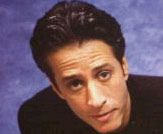 Jon Stewart Biography
JON STEWART
Birth Name: Jonathan Stewart Leibowitz
Birth Date: November 28, 1962
Born in the Trenton, New Jersey, actor/comedian Jon Stewart first received the notion of going into stand-up at the age of 24, while using puppets to teach kids about disabled people. The graduate from the College of William and Mary in Williamsburg, Virgina, then started doing stand up in New York and moved through the top comedy clubs.
He received his first break after landing spots on Young Comedians Special and Late Show with David Letterman. The exposure led to a brief MTV gig followed by his own half hour late night talk show The Jon Stewart Show, which ran for one full season (1994-5).
By 1994, Stewart had landed his first bit part in a feature film, Mixed Nuts playing a rollerblader. After a few guest star gigs on series such as The Larry Sanders Show, The Nanny and NewsRadio, he picked up the pace three years later with major roles in Wishful Thinking (1997), The Faculty (1998) playing Professor Edward Furlong and Playing By Heart (1998) as Trent.
In 1999, Stewart took over the popular comedy series, The Daily Show, from the original host, Craig Kilborn. The series, which poked fun at the daily events in the States and around the world, increased in popularity with Stewart at the helm, and provided him with more fame than any of his previous projects.
He took advantage of his new found fame and starred in Big Daddy (1999) opposite Adam Sandler, hosted The 43rd Annual Grammy Awards in 2001 and landed a starring role in Death to Smoochy (2002). Since then, he has provided his voice talents to the animated motion picture Doogal (2006), and makes a brief appearance as himself in the documentary Wordplay (2006).
Married since 2000, Stewart is also a writer.
Besides working on his own comedy, which earned him an Emmy for best writing in 2001 (The Daily Show), he has also written the book Naked Pictures of Famous People, and has penned the screenplay The Night People.
Filmography:
Wordplay(2006)
Doogal (2006) (voice)
Death to Smoochy(2002)
Jay and Silent Bob Strike Back(2001)
The Adventures of Tom Thumb and Thumbelina (2000) (V) (voice)
The Office Party (2000)
Committed (2000) (uncredited)
Big Daddy (1999)
Elmopalooza! (1998) (V)
Playing by Heart(1998)
The Faculty(1998)
Half Baked(1998)
Wishful Thinking (1997)
Mixed Nuts (1994)

Filmography