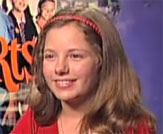 Jolie Vanier Biography
JOLIE VANIER
Date of Birth: January 14, 1998
Jolie Jacqueline Vanier was born in Scottsdale, Arizona to Jerre Lynn and Jay Vanier. Interested in performing at a young age, Vanier was enrolled in acting classes and began performing in local children's theater, school and church. She then began commuting to California for auditions and additional training and landed roles in the short films Strange Little Girl and Juvenile Delinquence, receiving a Best Young Actress nomination from the Young Artists Awards for the latter film.
Her breakthrough came when writer/director Robert Rodriguez cast her as "Helvetica" in the Warner Bros. feature film Shorts.
Vanier divides her time between Los Angeles and Scottsdale, where she is a dedicated young community activist, involved with numerous charitable organizations. An animal lover, she has two dogs and a cat and makes donations from her allowance to the Arizona Humane Society and the ASPCA.
Filmography:
Shorts (2009)
Filmography