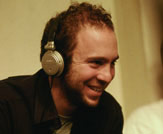 John Hamburg Biography
JOHN HAMBURG
Date of Birth: May 26, 1970
Born and raised in New York City, John Hamburg began making short films while in high school. At Brown University, he continued making movies in addition to studying playwriting. He later attended the prestigious Tisch School of the Arts at N.Y.U. While there, he wrote and directed the short film, Tick, which made its debut at the 1996 Sundance Festival, bringing Hamburg his first taste of critical praise and audience appeal. He followed that up by writing and directing his first feature film, an independent called Safe Men. Starring Sam Rockwell and Steve Zahn as down-and-out lounge singers who are mistaken for safecrackers, the film premiered at the 1998 Sundance Film festival, where Hamburg began to garner attention.
After his success at Sundance, Hamburg co-wrote two big budget Hollywood features, Meet the Parents (2000) and Zoolander (2001), both starring Ben Stiller. Both films did well financially, with Meet the Parents surpassing the coveted $100 million in earnings at the domestic box office. As a director, Hamburg worked on the Fox television series Undeclared before returning to the big screen with Along Came Polly, starring Jennifer Aniston and Ben Stiller.
Hamburg currently resides in New York City.
Filmography:
The Troubleshooter (2009)
I Love You, Man
(2009)
Along Came Polly
(2004)
Safe Men (1998)
Filmography