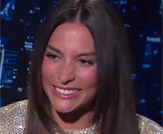 Genesis Rodriguez Biography
Venezuelan actress Genesis Rodriguez began taking acting, vocal, and dance classes as a child but knew she needed to do more if she wanted to seriously pursue her dreams of being an actress. So she started taking summer classes at New York's renowned Lee Strasberg Theater and Film Institute, whose notable list of alumni include Alec Baldwin, Angelina Jolie, Scarlett Johansson, Robert De Niro, and Bridget Fonda. Fortunately, Rodriguez never forgot her Hispanic roots — despite being born and raised in America — because between 2004 and 2008, she landed several big roles in the Spanish television series Prisonera and Doña Bárbara.
In 2010, Rodriguez got her first big break in American television with a recurring role on the Emmy-winning HBO series Entourage. This seemed to get her noticed because soon after, she was offered a role in the film Man on a Ledge (2012) alongside Sam Worthington and Jamie Bell. She has also been cast in the comedy What to Expect When You're Expecting (2012) with Cameron Diaz and Dennis Quaid, as well as the thriller Last Stand (2013) starring Arnold Schwarzenegger and Forest Whitaker. She can also be seen in the comedy Casa de mi padre (2012).
Filmography