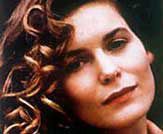 Alice Krige Biography
ALICE KRIGE
Date of Birth: June 28, 1954
Krige began her education at Rhodes University in Grahamstown, South Africa, with every intention of following in her mother's footsteps by becoming a psychologist. When the University started a drama school, Krige enrolled in a dramatic acting class to fill a free credit. Before she knew it, she had an honors degree in drama and the decision to become an actress was made.
After university, she left her native South Africa and attended The Central School of Speech and Drama in London. Krige's first professional role was starring in a TV movie of Dickens A Tale of Two Cities, appearing opposite Chris Sarandon. The next year she made her London stage debut in Shaw's Arms and the Man. For her performance she was given the Laurence Olivier Award for Most Promising Newcomer.
Her first feature film appearance was as Sybil, in the Oscar-winning Chariots of Fire (1981). Next she co-starred in Ghost Story (1981) as the "avenging angel" who brings well-deserved grief to elderly Fred Astaire, Melvyn Douglas, Douglas Fairbanks Jr. and John Houseman.
Krige then took a break from film and television and spent time working with the prestigious Royal Shakespeare Company (1982-83). While there, she performed in such productions as King Lear, The Tempest, The Taming of the Shrew and Cyrano de Bergerac.
She returned to the screen in the mid-80's and played a diverse number of roles, including Bathsheba in King David (1985) and Mary Godwin (aka Mary Shelley) in Haunted Summer (1988). Krige has also been in more than her share of British and American made-for-TV movies, among them Baja, California (1984), Iran: Days of Crisis (1986) and Max and Helen (1990).
In 1996, she appeared in the eighth Star Trek movie, Star Trek: First Contact, as the Borg Queen who is on a mission to assimilate Earth. For her role, she won the 1997 Saturn Award for Best Supporting Actress. The experience introduced her to the popular Star Trek conventions, at which she still makes occasional appearances.
She is married to director Paul Schoolman.
Filmography:
The Calling
(2000)
The Little Vampire (2000)
Molokai: The Story of Father Damien (1999)
The Commissioner (1998)
Twilight of the Ice Nymphs (1997)
Habitat (1997)
Star Trek: First Contact (1996)
Donor Unknown (1995)
Institute Benjamenta (1995)
Sleepwalkers (1992)
See You in the Morning (1989)
Haunted Summer (1988)
Spies Inc. (1988)
Barfly (1987)
King David (1985)
Ghost Story (1981)
Chariots of Fire (1981)
Filmography