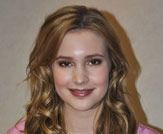 Alexia Fast Biography
ALEXIA FAST
Date of Birth: September 12, 1992
The daughter of a producer mother and songwriter father, Vancouver-born and raised Alexia Fast made her entrée into showbusiness at the age of seven when she wrote, directed and starred in her first short—The Red Bridge, which screened at the Atlantic Film Festival.
By age 12, she was playing roles in TV movies and in 2006, she made her film debut playing Cindy Bottoms, a sassy, gun-wielding girl in the zombie movie Fido.
Her next feature film was the Alliance release Kickin' it Old Skool, in which she played the younger version of a character played by Maria Menounos. In 2007, she was cast in a regular role on the MTV TV series Kaya. Other series that she's made guest appearances on include Flashpoint, Supernatural and Red Widow.
Alexia has won two Leo awards, one in 2007 for Best Lead Performance by a Female in a Feature Length Drama for her role in the TV movie Past Tense and in 2011 for Best Supporting Performance by a Female in a Feature Length Drama for the Alliance release Repeaters.
In the award-winning and critically-acclaimed Canadian indie film Blackbird, Alexia received second billing playing Deanna, the love interest of the main character. In Jack Reacher, starring Tom Cruise, she played Sandy and in the upcoming Atom Egoyan film, Queen of the Night, she plays the daughter of Ryan Reynolds' character, Cass, who gets kidnapped.
In her spare time, Alexia enjoys singing and writing and plans to do more screenwriting and film directing in her future.
FILMOGRAPHY:
Queen of the Night (2014)
Jack Reacher (2012)
Blackbird (2012)
Last Kind Words (2012)
Triple Dog (2012)
Repeaters (2010)
Hungry Hills (2009)
What Goes Up (2009)
Helen (2009)
Kickin' It Old Skool (2007)
Fido (2006)
Filmography