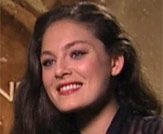 Alexa Davalos Biography
ALEXA DAVALOS
Date of Birth: May 28, 1982
Born into an established entertainment family, it's no surprise that Alexa Davalos, granddaughter of Richard Davalos, who starred alongside James Dean in East of Eden, and daughter of actress Elyssa Davalos and photographer Jeff Dunas, chose to pursue an acting career.
Alexa was born in France and got her first taste of acting at the tender age of three, when she played a small role alongside her mother in the TV movie Riviera.
Alexa spent the majority of her childhood in Italy and France and by the age of 17 decided to step out into the world on her own by moving to New York City. There, she did some modeling for photographer Jeff Lindberg before deciding to move to Los Angeles to pursue her other passion, acting.
In 2002, the budding actress starred alongside Charlie Hofheimer in film The Ghost of F. Scott Fitzgerald, which screened at the 2002 Toronto International Film Festival. Next, Davalos found herself working with Antonio Banderas in the television movie And Starring Pancho Villa as Himself. But the role that put Alexa's name out there was when she played Kyra in the futuristic feature film The Chronicles of Riddick, with co-star Vin Diesel in 2004.
But her acting doesn't stop on the big screen. Alexa took on the recurring role of a mutant on the FOX hit Angel in 2005 and landed starring roles in the short-lived television shows Reunion, which lasted only half a season, and Undeclared, which ran for only one season.
Since then Alexa's acting has landed her roles in a number of Hollywood films, including Stephen King's The Mist, playing Daniel Craig's love interest in the 2008 thriller Defiance, and had a leading role in the 2010 blockbuster Clash of the Titans.

She was then cast in a starring role as Juliana Crane in the Amazon Studios' hit series The Man in the High Castle (2015-2019), alongside Luke Kleintank and Rufus Sewell on Prime Video.
Alexa married actor Josh Stewart on May 19, 2019.
Filmography:
The Man in the High Castle (2015)
Clash of the Titans (2010)
Defiance (2008)
The Mist (2008)
Feast of Love (2007)
The Chronicles of Riddick (2004)
The Ghost of F. Scott Fitzgerald (2002)
Filmography