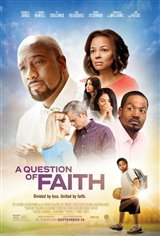 A Question of Faith
A Question of Faith Overview
Pastor David Newman (Richard T. Jones) is a loving husband to his wife Theresa (Kim Fields) and father to his 12-year-old son, Eric (Caleb T. Thomas). David is set to take over his dad's church, but at the same time, he's neglecting the promises he's made to Eric. Kate Hernandez (Jaci Velasquez) is a spiritually driven single-parent and owner of a local restaurant. Her daughter Maria (Karen Valero) is a free-spirited teenager aspiring to be the first in her family to go to college.

John Danielson (C. Thomas Howell) is the owner of a failing construction company who sees his daughter Michelle's (Amber Thompson) fledgling singing career as a way out of financial trouble. The lives of these strangers collide when two twists of fate strike back to back.

The first: while texting and driving in her car, Maria accidentally hits Eric, which lands Maria in jail and leaves Eric's family with an unthinkable dilemma. The second: while auditioning for a major record label, Michelle collapses, leading to a discovery about her health which rocks the very foundation of her father's dream.