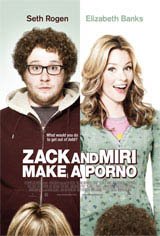 Zack and Miri Make a Porno
56 Reviews
|
Write a Review
In Theaters: October 31, 2008
3.21/5
Based on 545 votes and 56 reviews.
37.59%

10.53%

12.78%

13.53%

25.56%
Please rate between 1 to 5 stars
Showing 1-10 of 56 reviews
March 20, 2009
HILARIOUS! Seth Rogen never ceases to amaze me. Elizabeth was also great in her role and definatly had some funny moments (great comedic timing). But the person who amazed me most was Justin Long, Sooooo unbelievably funny, i had to rewind and watch again. Be sure to watch Seth Rogan and Justin Longs Improve extras on the dvd's special features, HILARIOUS!
February 21, 2009
Funniest movie of the year.
February 5, 2009
Miri can do porn but Zack needs to find something that suits him better.
February 3, 2009
zack and miri made a piece of crap!
January 20, 2009
This movie is awesome so freakin hilarious!!
December 5, 2008
Kevin Smith's best film to date. It's got his perfect blend of raunchy laughs with quirky romance. Not a flick for prudes... I couldn't stop laughing if I tried!
November 29, 2008
hilarious but it turned sappy at the end
November 28, 2008
Very funny!
November 27, 2008
I laughed so hard it hurt. Well worth your money. Great couples movie. (as long as it's not your first date)
November 22, 2008
hilarious, cute, adorable movie!! I had a dream that I made a porno the same night haha!