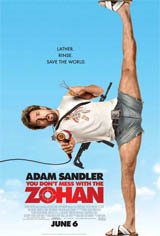 You Don't Mess With the Zohan
2.03/5
Based on 3693 votes and 163 reviews.
Please rate between 1 to 5 stars
Showing 51-60 of 163 reviews
June 20, 2008
My wife and i weren't too sure about it because of the ratings however we are all different, well i was surprised , my wife and i laughed and laughed , the humor is fantastic, i joke about the same humor all the time all day every day so we got it staightaway. I would recommend this to all, not too sure if i would let my 12 year old son see it...sometimes sex humor..not for kids. however i cant wait to get the DVD. GO SEE THE MOVIE FOR YOURSELF. there is a mesage at the end of the movie, makes sense too us.
June 19, 2008
i love adam sandler.. but come on. the accents got reaally old reaally fast and it just wasnt funny. straight up. i walked out.
June 18, 2008
Truly terrible. A few funny one liners and gags, but more deserving as repeat skit on Saturday Night Live and not worthy of an entire feature film.
June 17, 2008
finally a movie that picks on the middle east. It's been far too long since a movie with this humor has been in theaters. The people who don't like this movie is because they can't laugh at their own faults!
June 17, 2008
One of the worst movies I have EVER seen... Adam Sandler keeps getting worse and worse..
June 17, 2008
No other movie can "Mess with the Zohan" so far this summer.
June 16, 2008
There was a lot of good scenes, although it could have more meaning towards the end!
June 16, 2008
HUGE WASTE OF TIME. Save your money. Worst movie I've seen in at least a few years.
June 15, 2008
walked out, 45 mins in. This movie attempts to make light of the unrests in the Middle East by poking fun at everything. Yes there was a good message in the movie, but come on. There is nothing funny about... well... this entire movie.
June 15, 2008
Outrageously funny! Stupid, predictable and both sexually and ethnically suggestive, but VERY funny. Definitely, more a guys movie but some gals may like it as well. We went to see this because there was nothing else on; a very pleasant surprise. easily 4 stars for humor