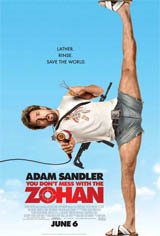 You Don't Mess With the Zohan
2.03/5
Based on 3693 votes and 163 reviews.
Please rate between 1 to 5 stars
Showing 41-50 of 163 reviews
June 24, 2008
Waste of time and money... the funniest parts are in the preview. I want 2 hours of my life back but i cant get it. HUGE DISAPPOINTMENT.
June 24, 2008
Adam Sandler is charming as always and I actually loved his character. We definitely laughed but the humour was a bit "18 year old college student". If I were about 10 years younger I probably would have laughed my butt off. Worth a viewing but definitely a rental.
June 24, 2008
pretty much all funny parts in this movie were scene in the previews couple of things to make you laugh but overall you have seen this movie if u have seen the previews for it
June 24, 2008
Loved it! went with my gf 3 other buddies and we all just pissed our selves laughing soo hard, great job adam sandler. I don't see whats with the bad reviews. The only people who wouldn't like this movie is if you don't like adam sandler period. ***** from all of us!
June 23, 2008
Slapstick, so they should have made different footage for the comercials. Stoopid funny Mussad vs. PLO, so what's not to like? 10 more like this and in the words of Harry Potter, the Boggart would be "Riddikulus!"
June 22, 2008
those ppl. who gave it a 1 need to take the stick out of your butts and loosen up a bit. [=
June 22, 2008
it was an alright movie. im glad i didnt have to pay for it though (sneak peak passes)
June 22, 2008
I wish I could give this movie 0 stars. I tried to review it last night, but apparently the words needed to describe just how bad this movie is, caused my review to be blocked. Suffice to say that Zohan is tasteless, racist and full of jokes referring to Zohans privates and his sexual practices. Don't take the kids.
June 20, 2008
Great movie. Adam Sandler is a legend, and if you like Adam Sandler, then you like this movie.