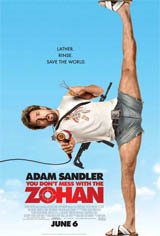 You Don't Mess With the Zohan
2.03/5
Based on 3693 votes and 163 reviews.
Please rate between 1 to 5 stars
Showing 11-20 of 163 reviews
July 31, 2008
Garbage.......horrible and don't wasted your money.
July 29, 2008
IMAGINE THEY LOCKED THE THEATRE'S DOORS AND YOU ACTUALLY HAD TO SIT THROUGH THE WHOLE MOVIE. HOW MANY PEOPLE DO YOU THINK WOULD COMMIT SUICIDE? THEN WHEN THEY OPEN THE DOORS THEY SHOULD HAVE SOMEONE SELLING T SHIRTS THAT SAY " I SURVIVED WATCHING ( YOU DONT MESS WITH THE ZOHAN )
July 27, 2008
All around funny movie with a political hotspot. Great for a laugh!
July 27, 2008
im not a jew or a muslim but i can see how they are making muslims into bad people then i realized that adam sandler is a jew so for sure he is gonna make them look bad !!!
July 27, 2008
well there were a few scenes that were funny but my god i can see how racsit the movie is towards palistnians its obviously more on the isreali side did you notice that !!! the movie is vilfying arabs
July 25, 2008
Can i rate it 0 stars? How about a negative number? Seriously.
July 25, 2008
The person that said the ride to show and back was more entertaining had it right on the nose. Easily the worst movie I've seen. Vulgar and old tired jokes... I love Adam Sandler, but this is horrid. Happy Gilmore, funny. Billy Madison, funny. Big Daddy, 50 first dates...all good. This one?? STAYYY AWAYYYYY!
July 23, 2008
this movie is trash waste of money and time and waste of time makin this movie
July 22, 2008
Very bad movie. I rather sleep that watch it for free. I even got an offer from a movie critic and I declined it. The offer was to watch the movie, rate it and getting paid 1M.
July 20, 2008
Another Sandler childish romp. The man is a fool! Don't encourage him!