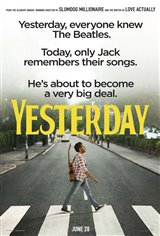 Yesterday
109 Reviews
|
Write a Review
In Theaters: June 28, 2019
On DVD/Blu-ray: September 24, 2019
4.44/5
Based on 312 votes and 109 reviews.
74.83%

7.95%

7.95%

4.64%

4.64%
Please rate between 1 to 5 stars
Showing 71-80 of 109 reviews
July 6, 2019
an amazing movie!!! blew me away!! i loved it!!!!
July 5, 2019
I loved it!!! I'm going to see it again.
July 5, 2019
Loved it all
July 4, 2019
I absolutely loved this movie. The storyline was great. The Beatles songs transported me back to the 60's. Loved the scene with John. Wish it was true. I never wanted it to end.
July 4, 2019
I thought it would be better. Did not like the acting.
July 4, 2019
Honestly, I thought I would love it, but I just didn't. There wasn't enough music (a lot of short clips of songs) and it felt forgettable. Actors did a good job though. I enjoyed rocketman more. Maybe my expectations were just too high.
July 4, 2019
I loved it. It was funny, whimsical, and just plain FUN to watch.
July 3, 2019
Very good movie. Different story line, great casting, and wonderful music. Not one single boring minute.
July 3, 2019
Wish it would of showed the Beatles in it with all the data that is out there on them. No one can sing like them. Good to hear the songs though!!!!! Of the 3 music movies Bohemian Rhapsody ROCKS!!!' Waiting for the Springsteen Movie to come out!!!!!
July 3, 2019
A nice uplifting,funny movie,really enjoyed it.