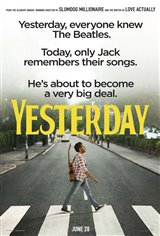 Yesterday
109 Reviews
|
Write a Review
In Theaters: June 28, 2019
On DVD/Blu-ray: September 24, 2019
4.44/5
Based on 312 votes and 109 reviews.
74.83%

7.95%

7.95%

4.64%

4.64%
Please rate between 1 to 5 stars
Showing 61-70 of 109 reviews
July 11, 2019
LOVED IT!!! The actors were wonderful..... the main character did such a good job....and he's a great singer as well. You gotta see this movie!
July 11, 2019
We just found this movie to be ok. Would have watched it at home but still enjoyable.
July 10, 2019
I saw the movie last night. I liked it. I had a good laugh.
July 10, 2019
Unlike jack Malik's songs the storyline was highly original...and fraught with mindbending implications. Is jack dead? Did someone go back in time to erase the Beatles? Why? Did jack while dying slip into an alternate time line? Will he come back? It's the kind of film you have to see several times just to understand the basics....armed with books by nicola Tesla, Raymond moody, von naumann, Rupert sheldrake Robert jay and the fourth book of light.
July 9, 2019
Great movie... lots of funny moments but some poignant ones too. Loved the music and the acting was terrific. Highly recommend.
July 9, 2019
I loved every minute of this movie! I'm surprised at the reviews that said it was too long....I didn't want it to end!
July 8, 2019
I loved this movie! I actually gasped and jumped at the ending scene with the old man...OMG! If you are a Beatles fan, you will love it!!
July 7, 2019
Original, sweet, heartwarming...loved it!
July 7, 2019
Wonderful theme. Brought back so many great memories.
July 7, 2019
Utterly charming and fun! Great storyline and arch through the end.