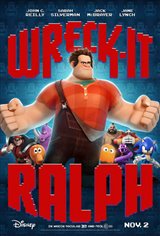 Wreck-It Ralph
31 Reviews
|
Write a Review
In Theaters: November 2, 2012
4.33/5
Based on 124 votes and 31 reviews.
70.69%

8.62%

8.62%

6.90%

5.17%
Please rate between 1 to 5 stars
Showing 1-10 of 31 reviews
December 8, 2019
movie was ok.
April 1, 2014
One of the best gamer movies iv'e seen so far, I mean come on,they had SONIC THE HEDGEHOG!!!!!!!
April 21, 2013
this movie was awesome i will difftenly see WREck it RAleph 2 good cast great story watch this movie .
April 10, 2013
not an appropriate movie for young children as there is violence with the use of machine guns by the characters. also for young children it is way to overwhelming as the movie goes at a fast paste with all the action. i dont know what kind of movies are being made these days...what ever happened to the nice disney movies?? i would not give this movie a g rating. parents avoid this movie.
January 25, 2013
So Good, very creative!!! It makes you want to run to the arcade and play video games all day long.
January 1, 2013
QUICK EVERYONE TO THE OSCARS TO SEE THE MOVIE WIN(I hope it is nomminated)
December 24, 2012
really enjoyed it. great references to 80's arcades. fun.
December 18, 2012
Absolutely love the movie sooooo funny and cute... and as a kids movie.... the story line actually makes sense....
November 30, 2012
It was awesome espically if you watch in 3d it has a lot of variety of charachters that appear such as street fighter charachters,sonic, and more! Definitely Recommend
November 20, 2012
that movie is awesome