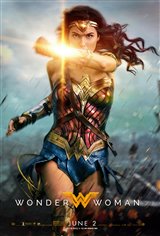 Wonder Woman
452 Reviews
|
Write a Review
In Theaters: June 2, 2017
On DVD/Blu-ray: September 19, 2017
4.05/5
Based on 4164 votes and 452 reviews.
71.76%

3.94%

2.40%

1.15%

20.75%
Please rate between 1 to 5 stars
Showing 51-60 of 452 reviews
September 18, 2017
Silly action movie
September 18, 2017
nothing but a cap america 1st avenger+thor 1 rip off
September 18, 2017
cap. america wannabe,skinny,gullible,feminist moron=W.woman
September 18, 2017
my eyes were bleeding while watching this SJW crap
September 18, 2017
villains were awful
September 16, 2017
What a boring movie and gal being gorgeous has nothing to do with the movie. Can't wait till DVD comes out really your going to pay more money for this trash of a movie. Watching this movie burn would be more entertaining because that is all this movie is worth nothing. I would not pay another cent for this movie. Total disaster. Can't wait to own hitman's bodyguard because that movie was 10x better then this crap.
September 14, 2017
really good film worth while seeing and do that yourself looking it on the big screen
September 14, 2017
Worse than BvS
September 14, 2017
A movie for pathetic feminist retards.So generic and boring
September 13, 2017
I loved this movie and can't wait for DVD to see it over and over. I appreciated the wry humour and the cast of characters. A great start to a new franchise, starring a bad ass woman character that doesn't hesitate to get things done. Can't wait for the next movie either!