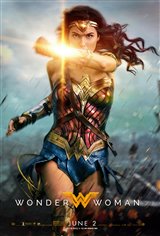 Wonder Woman
| 447 Reviews
Write a Review
In Theaters: June 2, 2017
On DVD/Blu-ray: September 19, 2017
4.04/5
Based on 4142 votes and 447 reviews.
Please rate between 1 to 5 stars
Showing 51-60 of 447 reviews
September 16, 2017
What a boring movie and gal being gorgeous has nothing to do with the movie. Can't wait till DVD comes out really your going to pay more money for this trash of a movie. Watching this movie burn would be more entertaining because that is all this movie is worth nothing. I would not pay another cent for this movie. Total disaster. Can't wait to own hitman's bodyguard because that movie was 10x better then this crap.
September 14, 2017
really good film worth while seeing and do that yourself looking it on the big screen
September 14, 2017
Worse than BvS
September 14, 2017
A movie for pathetic feminist retards.So generic and boring
September 13, 2017
I loved this movie and can't wait for DVD to see it over and over. I appreciated the wry humour and the cast of characters. A great start to a new franchise, starring a bad ass woman character that doesn't hesitate to get things done. Can't wait for the next movie either!
September 12, 2017
Very good movie and Gal Gadot was great.
September 11, 2017
Injustice 2 is going to suck because wonder garbage is in it
September 11, 2017
I saw Wonder garbage and it was a terrible movie. Definitely worst movie of the year. Hands down. Batman was amazing but this wasn't even close to how good the batman movie were. Totally disappointed
September 10, 2017
user bad reviews got it wrong as that their opinion, as the saying goes their no counting for taste.... don't listen to those bad reviews apparently they don't like wonder women or dc comics so they trash in any way shape for form, probably didn't see the film like a person I know didn't see Christopher Nolan batman films only saw clips and trash it because of those clips and as well doesn't like the batman charter, so those who trash wonder women as it so easily to criticize the film when they don't know what it takes to make one and so easily to criticize somebody acting when they don't do it them self's, try then we will see how u do and will be ready to trash your work
September 9, 2017
This is by far the worst movie of the year. Hands down.