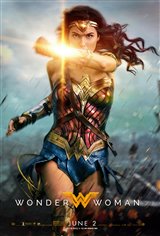 Wonder Woman
| 452 Reviews
Write a Review
In Theaters: June 2, 2017
On DVD/Blu-ray: September 19, 2017
4.05/5
Based on 4164 votes and 452 reviews.
Please rate between 1 to 5 stars
Showing 41-50 of 452 reviews
September 25, 2017
the actress is an ameteur.It seems very obvious
September 25, 2017
formulaic,silly movie
September 25, 2017
Such a stupid,generic movie full of feminist bullshit.Worst I ve ever seen since S.Squad
September 24, 2017
Best comic book movie since Catwoman. 5/5
September 19, 2017
Best movie of 2017 really. You should burn every copy you just bought because that would be more entertaining to watch then this crap. Main actress is smokin yeah I think not. You should get your eyes checked. Main actress annoying yeah you got that right. Worst movie of 2017 hands down
September 19, 2017
just bought 3 copies of the DVD of the BEST movie of 2017
September 19, 2017
It's kinda good. I don't like the looks of this actress and found her annoying.
September 18, 2017
I would say that the posts on her are real and accurate to how much this movie SUCKS. Hitman's bodyguard was definitely better then this disaster of a movie. Powering to women give me a break. This is not powering other then this movie should go in a trash can and never be watched again. Injustice league will definitely suck because wonder waste will be in it. Nice job with putting all those characters in a movie but no background story. What bull s*** is this. Won't waste my money on that movie either. All you people will say about it is gal is sexy. That is not a review. Completely inaccurate. Waste your reviews somewhere else. Here is not the place unless you are going to put up an accurate review
September 18, 2017
Hitman's bodyguard didn't have sexy gal are you kidding me. Shut the f*** up about that. Gal isn't that sexy looking so stop putting that kind of review up here morons. This is hialious that this movie was at an 87% and now it is at 76%. Good for you people speaking up about this trash of a movie. Completely garbage. I would rather watch this movie burn then watch this S*** again.
September 18, 2017
watta waste=ww