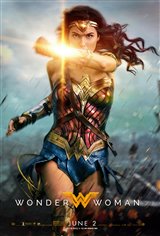 Wonder Woman
| 452 Reviews
Write a Review
In Theaters: June 2, 2017
On DVD/Blu-ray: September 19, 2017
4.05/5
Based on 4164 votes and 452 reviews.
Please rate between 1 to 5 stars
Showing 441-450 of 452 reviews
June 1, 2017
Amazing story. Amazing acting. Amazing movie.
June 1, 2017
An amazing movie. Loved it!!! Wonder Woman was my favourite comic book heroine growing up and this movie does it credit. Women kick a**. The Amazon women are fantastic. Superb fighting scenes. Gal Gadot plays Wonder Woman perfectly. Includes everything-action, humour, pathos, surprises, romance... A must see. Great scenes. A movie worth paying for to go watch time and again.
June 1, 2017
The movie was fantastic. They did not forgo a storyline and actual acting ability and opt for pointless fight scenes and pretty faces. Instead we got all of the above in just the right amounts!
June 1, 2017
I really, truly enjoyed this movie. The entire cast carried their weight and Gal Gadot has to be one of the most beautiful and talented women on the planet right now.
June 1, 2017
GAL GADOT WAS AMAZING
May 29, 2017
GAL GADOT SOOOOOOOOOOOOO BEAUTIFUL
May 29, 2017
GAL GADOT HOT AND SEXY !!!!!!!!!!
May 19, 2017
I AM A BIG FAN OF WONDER WOMAN
March 15, 2017
best marvel movie yet ????? u mean dc comics , this should be a good one as I'm super excited to see wonder women finally coming on the big screen, since loving the seventies TV show and it being one of my favorite super hero character, and to top it off as well it coming close to my birthday in June, yes !! yes !!!! yes !!!!!!!!
February 16, 2017
Strong physically, confident, smart, caring superhero . Must see movie.