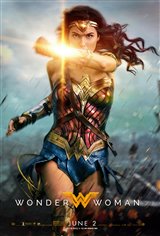 Wonder Woman
| 452 Reviews
Write a Review
In Theaters: June 2, 2017
On DVD/Blu-ray: September 19, 2017
4.05/5
Based on 4164 votes and 452 reviews.
Please rate between 1 to 5 stars
Showing 421-430 of 452 reviews
June 3, 2017
Thought it was just OK. Got rather bored at times waiting for something to happen. Not sure if the 45 minute history lesson of her growing up was necessary. Actually preferred Baywatch over this one.
June 3, 2017
It was ok. A shame the super hero gets tossed around like a sack of potatoes. But the main point is that good Triumphs over evil.
June 3, 2017
This was soooo good, I loved it so much. It was a great origin story for her, I loved every minute of it. I recommend it for anyone who loves superheroes. It is great for all ages.
June 3, 2017
As super hero movies go it was as good as any and better than most. I cannot imagine any other woman portraying Wonder Woman. The casting was spot on. Strong and compassionate. She kicks ass. Very similar to the first Captain America movie. Great story. Action all the way to the end of the movie. I will see it many more times this summer with family.
June 3, 2017
The best DC movie since The Dark Knight. Perfect amount of emotions, laughs and fights. I highly recommend the film if you're into action or comic adaptations! :)
June 3, 2017
For years I've heard stories of a Wonder Woman movie. For years they have never panned out. Studios always got cold feet and stepped away from the project, fearing that people would not go to the theaters to see a strong Amazonian lead. That is not the real reason. The truth is jealously because, in the right hands, a Wonder Woman movie would be so much better than any of the other DC heroes movies to have hit the screens. That's right, I said it. This is THE BEST DC-based movie I have yet seen. Of course, this is in my opinion, and your view might differ; but even if it does... so what? It is still a worthy movie for this character either way. Gal Gadot is perfect. The interplay between her and Chris Pine's Steve Trevor is so much fun to watch. GO SEE THIS MOVIE! My only gripe is that it could have used a stronger set of villain characters as Diana's adversaries.
June 3, 2017
Amazing Movie!! Gal Gadot was absolutely sexy and did her character very well! Best DC movie up to date!
June 2, 2017
Awesome film!
June 2, 2017
Awesome film, reminded me of Captain America First Avenger a little, about time DC got it right
June 2, 2017
Loved the movie. Gal Gadot is amazing in movie.