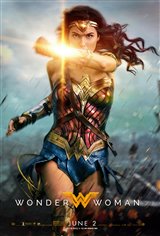 Wonder Woman
| 452 Reviews
Write a Review
In Theaters: June 2, 2017
On DVD/Blu-ray: September 19, 2017
4.05/5
Based on 4164 votes and 452 reviews.
Please rate between 1 to 5 stars
Showing 11-20 of 452 reviews
November 20, 2019
best 2017 movie wonder woman is awesome and a great warrior gal gadot did great on her roll as wonder woman and as playing wonder woman. great movie
November 20, 2019
wonder woman is really good and excited for the new wonder woman movie .
November 20, 2019
wonder woman is my favorite movie it is the best wonder woman that has been filmed movie Gal gadot did a great job on diana prince and as acting for the movie . the ending is really good and the part when she saved all of the men on the no man land.
January 6, 2019
I applaud everyone who gave this such bad reviews to this wonder trash and who ever bought 3 dvds of this movie you should burn every copy you got. This does not deserve your money or anyone else's. Sick and tired of going to see movies that suck. I am not a critic but I like to let people know about movies that are good or terrible and this is one to take to the trash
January 15, 2018
very good
January 9, 2018
Wonderful movie. Gal kicks butt. Super! Her blood is like Henrietta Lacks' all month.
October 23, 2017
A really entertaining action adventure!
October 21, 2017
This movie did suck and it stil sucks to this day. Movie of the year and deserves an Oscar lol. This movie will not get an Oscar for worst movie of the year. The only dc movie that was decent is the Batman series other then that the rest of the movies are Garbage
October 10, 2017
HORRIBLE & BORING !!!!