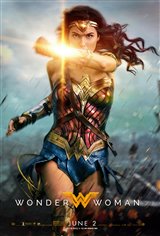 Wonder Woman
447 Reviews
|
Write a Review
In Theaters: June 2, 2017
On DVD/Blu-ray: September 19, 2017
4.04/5
Based on 4142 votes and 447 reviews.
71.57%

3.97%

2.42%

1.16%

20.89%
Please rate between 1 to 5 stars
Showing 1-10 of 447 reviews
August 17, 2020
this was great the six time around and would see it again on the big screen, to the fools that just keep repeating bad reviews and trash wonder women...please get a life nobody interested in your opinion fans loved it and movie critics loved it, your words have no value when all u do it speak wicked sick minded words....get lost and go away
June 5, 2020
best 2017 film.
May 1, 2020
really good.
March 19, 2020
great.
December 12, 2019
ok
November 20, 2019
best 2017 movie wonder woman is awesome and a great warrior gal gadot did great on her roll as wonder woman and as playing wonder woman. great movie
November 20, 2019
wonder woman is really good and excited for the new wonder woman movie .
November 20, 2019
wonder woman is my favorite movie it is the best wonder woman that has been filmed movie Gal gadot did a great job on diana prince and as acting for the movie . the ending is really good and the part when she saved all of the men on the no man land.
March 11, 2019
AWESOME
January 6, 2019
I applaud everyone who gave this such bad reviews to this wonder trash and who ever bought 3 dvds of this movie you should burn every copy you got. This does not deserve your money or anyone else's. Sick and tired of going to see movies that suck. I am not a critic but I like to let people know about movies that are good or terrible and this is one to take to the trash