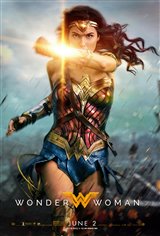 Wonder Woman
| 452 Reviews
Write a Review
In Theaters: June 2, 2017
On DVD/Blu-ray: September 19, 2017
4.05/5
Based on 4164 votes and 452 reviews.
Please rate between 1 to 5 stars
Showing 1-10 of 452 reviews
December 20, 2020
Really loved this Movie, so different and keeps your attention from start to finish. The writers are great and the filming is fantastic, some wild scenes. So ready to see the Next Wonder Woman movie Christmas Day.
December 14, 2020
Very good DC superhero film.
December 8, 2020
Correction ; trench warfare & bi-planes was WW I ~ 1914-1918. Not 1940's,sorry. What was I thinking.rh
December 7, 2020
Wonderful film. Best of the DC and as good or better than most Marvels. Sorry if girls aren't nice to you.
December 6, 2020
Naively innocent W.W in the ways of the Modern World. (well, 1940's). Dr. Poison,& "The Evil Doers", the funny lines, Action sequences, It doesn't get any better than this. Just a totally entertaining movie. Seen it 3 times(?) in 2017. Going to see it again this Friday Dec. 2020. My only concern is IMAX has been offensively loud recently.. This can be a PUT-OFF. Apparently there's a "Women Hater" leaving reviews here. ALSO, obviously, has limited vocabulary. Enjoy the movie. rh
August 17, 2020
this was great the six time around and would see it again on the big screen, to the fools that just keep repeating bad reviews and trash wonder women...please get a life nobody interested in your opinion fans loved it and movie critics loved it, your words have no value when all u do it speak wicked sick minded words....get lost and go away
June 5, 2020
best 2017 film.