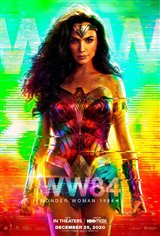 Wonder Woman 1984
| 87 Reviews
Write a Review
In Theaters: December 25, 2020
On DVD/Blu-ray: March 30, 2021
3.42/5
Based on 2316 votes and 87 reviews.
Please rate between 1 to 5 stars
Showing 1-10 of 87 reviews
January 20, 2022
I thought the first one was terrific, but this one really ups the stakes and delivers astounding action and drama.
December 2, 2021
Trash, 'yo.
November 28, 2021
If you are looking at this, you want an idea whether or not this movie is any good. Read the reviews, not the stars - the majority of the written reviews are negative, and they are right. More of the fake/weak/spammed ratings are from just clicking stars, which is likely the same person. However, this movie was bad - really bad. Dull, derivative, emotionless, and just a joke to be honest. Seriously, unless you just have to see your Wonder Woman, really avoid this movie - it gives superhero movies a bad name. 0 stars.
November 27, 2021
Yawnfest. 😴
November 6, 2021
Absolute garbage, nothing redeeming here.
September 27, 2021
Finally decided to see this movie, wasn't expecting anything great but thought it has to be a good popcorn movie, right...? Wrong! Made me want to throw my popcorn across the room ... seriously, they can get away with making trash like this and charging people for it? Shameful!!
July 25, 2021
This is a steaming pile. 💩
July 7, 2021
So bad... Hera herself would be ashamed... Bad plot, bad acting, terrible plot, horrible script, atrocious plot, too much cgi... oh, did I mention the awful plot?
June 20, 2021
There is not one good thing I can say about WW. It was a waste of 2.5 hrs and I can't waste more time on a review.
June 19, 2021
Completely horrible. Zero plot and pointless scenes. The real head scratcher is the number of people giving this anything more than a 2. I suspect that most of the support reviews are from 1 or 2 people only, just spamming this page Save your money/time!