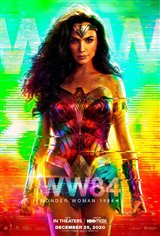 4.36/5
Based on 1832 votes and 44 reviews.
Please rate between 1 to 5 stars
Showing 1-10 of 44 reviews
January 14, 2021
Terribly made movie! The taming of Wonder Woman ruined this movie. No where near the excitement, suspense and fight scenes of the first Wonder Woman. No need in making number 3 if this is what is in store for that movie.
January 12, 2021
A MUST SEE FILM. VERY E4NTERTAINING AND MAGICAL FILMING.
January 9, 2021
Loved the whole movie and was excited to see Linda Carter make an appearence!!!
January 7, 2021
This movie was bad for so many reasons. It should have been called WW VS the Bad Orange Man. Super disappointed! I loved the first movie but this one was clearly made by political Hollyweird people. Don't waste your time and money on this stinker.
January 4, 2021
Three times I saw this film. Each time I see more, it is number one at the box office. Good clean movie, it speaks for itself. Don't miss it.
January 4, 2021
Very disappointing. Bad writing and cinematography. Expected a lot more.
January 2, 2021
What in the world happened to the producers of this movie? We left half way through the movie.
January 2, 2021
not a perfect movie but still good never the less beside it flaws
January 1, 2021
Action packed and Love story, but the true messages are there if you can see it. Some of it , a look into the future and biblical warnings. This world is beautiful in many ways, but humanity is not in appreciation of it. I like this movie enough to see more than once and there is part of it shown after the credits.
January 1, 2021
Oh my goodness the Wonder Woman sequels are now destroyed. Horribly made movie!!