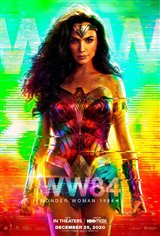 Wonder Woman 1984
| 73 Reviews
Write a Review
In Theaters: December 25, 2020
On DVD/Blu-ray: March 30, 2021
3.99/5
Based on 2100 votes and 73 reviews.
Please rate between 1 to 5 stars
Showing 1-10 of 73 reviews
March 28, 2021
We have a new classic.
March 27, 2021
this is a one star to that person or people that all they do is trash any movie that doesn't live to their standards nit picking anything dumb thing as they couldn't do better but have no clue to make a movie, I guess they wouldn't like if they went to work and if people came up to them and trash their work, they wouldn't look mirror because if they did they would see their ugly soul sinfully life, but fool them self their a good person, but how wrong they will be when they meet god in the afterlife ...but buy then wishing they change their mocking big mouth wicked life but buy then it will be too late....the sad thing about user review as it give Despicable people a place to bad mouth anything, as the saying goes what comes around goes around, u reap what u sow
March 26, 2021
Disappointing. Dull... predictable... you would have trouble describing the plot to a friend a week later, because there really wasn't any. Not a good movie by any means, regardless of the rave reviews by the fanatics as their opinions are just that nothing more nothing less.
March 22, 2021
good movie beside all the negative opinions that people give it, no prefect by any means but not a terrible movie regardless what is say as their opinions are just that nothing more nothing less
March 21, 2021
beside it flaws, it still a enjoyable movie ,would have been better if those flaws weren't there
March 21, 2021
Oscar favorite... seriously? What color are the skies in YOUR universe? Like virtually all DC movies, it was horribly bad... with the material they have in the DC universe, there's no way this movie should have been this bad... I guess the director and script writer have a special talent for ruining things... 0/5
March 17, 2021
This was heavily promoted as an Oscar favourite, but was completely shut out in the major categories. What happened? I think the Academy is biased toward female-lead comic-book movies -- it's the only explanation possible.
March 15, 2021
Just... really... bad.
March 11, 2021
Meh... no other words describe it. Sorra boring but occasional action parts. See once and forget about it.