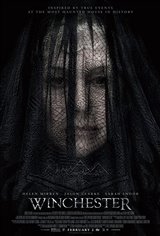 Winchester
| 24 Reviews
Write a Review
In Theaters: February 2, 2018
On DVD/Blu-ray: May 1, 2018
PG-13 | Thriller | 1h 39m
3.5/5
Based on 96 votes and 24 reviews.
Please rate between 1 to 5 stars
Showing 1-10 of 24 reviews
May 5, 2018
Set in early 1900 s , don't waste you time, boring
February 25, 2018
Although it has its moments, the movie is more biographical than frightening. Helen Mirren delivers a typically powerful and convincing performance, but even her venerable talent cannot prop up a movie utterly predictable in both direction and resolution. Even the occasional moments of fright were dulled by their predictability. If you are a Helen Mirren fan, see the movie. If not, save yourself a trip to the theater..
February 25, 2018
Really enjoyed this movie and the way they tied everything together. Love the house and will visit it one day soon.
February 24, 2018
It was terrible. I never walk out on a movie but this one came close
February 20, 2018
This was a good film. If you approach it as a scary film rather than a documentary, then it is enjoyable. Lots of suspenseful scenes and jump scares. Although there are 2 stories that are playing out in the film, they blend into 1 and make the film a bit more complete. As for scary scenes, these happen in a flash rather than a full visual that repeats throughout the film. If you want to know more about the house, I would recommend the tour at the location. It's an interesting tour and a beautiful house with all it's oddities.
February 17, 2018
Little disappointed that there was not more action but non the less good!
February 15, 2018
I liked this movie but there were some poorly scripted scenes. However, Helen Mirren and the other actors did a fine job. There were several really scary scenes that made the entire audience jump. All of the negative reviews below appear to have been written by the same person who seems to be doing this with all of the serious dramatic films that are released. I suspect that this person only likes action and comic book films with special effects.
February 14, 2018
Another great acting performance by a great actress, this movie was worth going to see, just to see a genus doing her craft. Forget the rest of the movie. Just go to see her preform, well done Helen!
February 14, 2018
Forget the bad reviews! This movie was not what I prepared myself for (mediocre) and provided just enough jump-scares. Kudos to the directors for keeping a horror movie fan happy on Valentine's Day!
February 11, 2018
Screw what these people are saying. Lol. This movie is on par for a scary film! The acting was great! Criticize all you want, YOU don't make the movie! Also who cares about historical facts not adding up; it's a movie! It's not history lesson! You go to the movies to get lost in fantasy not facts! Anybody wanting to see this film cause they like a good scary flick, GO! Enjoy this one!