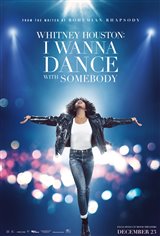 Whitney Houston: I Wanna Dance with Somebody
| 16 Reviews
Write a Review
In Theaters: December 23, 2022
On DVD/Blu-ray: February 28, 2023
3.62/5
Based on 52 votes and 16 reviews.
Please rate between 1 to 5 stars
Showing 1-10 of 16 reviews
January 29, 2023
Naomi Ackie!!!!! Phenomenal!!! Music was all Whitney! I am 68 years old. Do not ever remember there being a question about her sexuality. This was a total surprise to both me and my husband. An absolute MUST SEE if you like knowing the back story on celebrities. Good movie for our young adults looking for role models. One NEVER knows the trials and tribulations of these super stars. Not what it appears to be on the surface. LOVED IT!!!
January 11, 2023
Love it! Epic celebration of Whitey! See this one!!
January 7, 2023
Loved all the music, but I am a big Whitney Houston fan. Thought the acting was all really good. Actually reminded me of the Elvis, Aretha Frankin movies. Great entertainment!!!
January 3, 2023
Amazing movie. Especially great for those who grew up listening to Whitney.
January 3, 2023
I wanted to see how she adopted that boy that her daughter fell in love with, the one who provided both of them with drugs and caused both of their deaths. He wasn't even mentioned.
January 3, 2023
The lead was good, even if she looked nothing like Whitney. But there little about her relationship with Bobby Brown, and her daughter barely had any lines or anything to do. The end was confusing and left us going "what?"
January 1, 2023
They put tv-movies in theaters and movie movies on the small screen. What gives???
January 1, 2023
This shouldn't have gone to the big screen, it's a TV watch at best. One of the worst, most boring biopics I've ever seen. I was wishing it would end, it seemed endless. Avatar didn't seem long at 3 hours, this seemed interminable.
January 1, 2023
Why is this taking so long to go to streaming???
December 30, 2022
excellent movie in kind with elvis, judy garland etc. Movies that have tragic endings involving great singers. Well worth seeing.