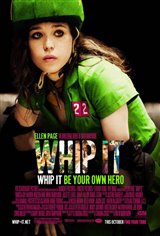 Whip It
24 Reviews
|
Write a Review
In Theaters: September 26, 2009
3.18/5
Based on 120 votes and 24 reviews.
41.94%

11.29%

6.45%

3.23%

37.10%
Please rate between 1 to 5 stars
Showing 1-10 of 24 reviews
July 15, 2021
Really REALLY bad movie. Why did they let Barrymore direct? She can't even act! Somehow Barrymore is lousier at directing than she is at acting (How is that even possible???) The certifiably insane Ellen Page doesn't impress either. Avoid this film like you would avoid a prostitute with festering cold sores.
September 14, 2017
Drew Barrymore is a uniquely untalented moron who must be stopped.
April 26, 2012
horrible movie!
April 26, 2010
I thought this movie was one of teh worst I've seen. I like Drew Barryomore, but I think she should stick to acting. The movie was disjointed, with no logical development. Ellen Page is good, but I think she was trying to act like her "Juno" character, which didn't fit here. Very dissapointing.
February 5, 2010
Great Movie! I recommend it!
January 30, 2010
sucked, really boring
November 10, 2009
Loved it!!! Very enjoyable.
October 21, 2009
This is an AWESOME movie and an AWESOME story for kids/teens/parents/couples and anyone who can QUAD roller skate!!! A must see!!!!
October 20, 2009
sooooo hot
October 18, 2009
This is a roller girl film not a Roller Derby film. The history and the heritage of Roller Derby is deeply rooted in speed skating. Roller girls came from the Austin Texas burlesque scene and is closely associated to the sex trade. If you love Roller Derby don't give your money to this film!