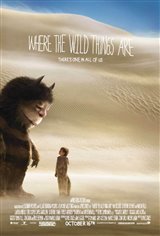 Where the Wild Things Are
3.34/5
Based on 229 votes and 42 reviews.
Please rate between 1 to 5 stars
Showing 1-10 of 42 reviews
November 22, 2022
This is a great, heartfelt film. I think it's telling that the negative reviews here are barely comprehensible or literate!
February 18, 2014
HORRIBLE!...... stupid movie stupid storyline i hated it the end was rediculuse and not very well thought out.
March 16, 2010
Nothing Like The Book not a good film
February 5, 2010
GREAT MOVIE! I got a perfect name for it: a fantasy comedy-drama! Please let adults know that it's not a movie for kids; it's a movie about "psychology"! There is a lot of important lessons in the movie and it's a lot better than the book! Even adults will enjoy!
January 24, 2010
Good to see a bad movie sometimes so you know what to compare to lol. Bad Bad Bad... However if I was 4 to 10 years old, I might have given it a 3 star
November 20, 2009
If you missed the plot in this movie, perhaps you should go back to reading 11 page stories. It is not a Walt Disney film. The plot is rich and complex--an epic expansion of the themes merely suggested in the original. But, these themes are explored primarily through metaphor, so if metaphor is not your forte, again, perhaps going back to a simpler version would be best. I give this movie two enthusiastic thumbs up.
November 20, 2009
Dark, imaginative, and inspiring--just the way a story about childhood monsters should be.
November 20, 2009
I can usually get into any kind of movie but this one was so boring.
November 18, 2009
Nice to look at, but that's about it. Perhaps creating a plot would have helped. Hopefully the next children's book turned movie will embellish on the storyline a little bit more, and not just stick to the 12 lines of text it has to work with.