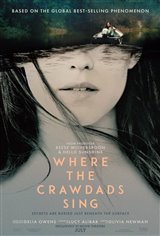 Where the Crawdads Sing
| 61 Reviews
Write a Review
In Theaters: July 15, 2022
On DVD/Blu-ray: September 13, 2022
4.56/5
Based on 172 votes and 61 reviews.
Please rate between 1 to 5 stars
Showing 1-10 of 61 reviews
August 12, 2022
A good entertaining movie with a good plot and a nice ending. Partial nudity but no vulgar language which is a nice change. Nice twist at the end to make you go hmmmm.
August 10, 2022
Such a touching story with a bit of suspense. Beautiful scenery. A must see. More than once!
August 10, 2022
Lots of twist and turns. Well written movie.
August 9, 2022
The movie had a good plot line. This movie reminded of the good movies from the past. The end has a great twist. I will buy the dvd.
August 8, 2022
Saw this on 7/15 Surprise ending. Had me weepy. Interesting title, makes sense but not what you'd expect
August 6, 2022
Excellent movie! The little girl who HAD to learn to be strong! I was so moved as I watched and it stirred so many emotions! Great ending too! Afterwards, just had to buy the book. Getting ready to read it. And might even go see the movie again!
August 6, 2022
Great movie. It is worth seeing it twice. I like it better than Top Gun
August 6, 2022
It was great getting out and seeing a movie its been so long. And even better when it is a great mystery movie.
August 6, 2022
I haven't read the book - it's in my very high pile of to-reads. This was fantastic - the plot, the twists, the characters. I absolutely loved the ending.
August 5, 2022
My husband and I saw this movie and loved it!! Had some mystery and twist and turns. Excellent acting! Will buy this when it comes out on dvd.