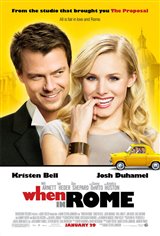 3.48/5
Based on 136 votes and 33 reviews.
Please rate between 1 to 5 stars
Showing 1-10 of 33 reviews
September 24, 2012
selena gomez is outstanding!
June 30, 2010
I really enjoyed this movie. It was funny, easy going and a no brainer. The viewer knows that the main actors are going to get together in the end, however, they journey that takes the viewer all over the world is interesting. The wishing well was a good addition. It makes one wonder: can wishes really come true?
June 30, 2010
Good chick flick.
March 25, 2010
The Perfect Rom Com.
March 15, 2010
this is grate fricking movie
March 8, 2010
This movice is sooo funny, I was laughing sooo hard! Good clean humour in this day in age is hard to find, take your mother to see this one she will love it. Elevator scene sooo funny!
March 2, 2010
BTW - I don't know what the 1* is for really. I would have changed the channel if at home. I was the only one in the theatre; not much wonder. It was a huge disappointment & as I love Rome, visited with my late [romantic and dear] husband, I was looking for a romantic movie in a beautiful city. I like New York too, but this movie was immature, silly and misleading. I wouldn't even rent the DVD, nor watch on TV - if ony I had known...I would have saved my Senior Citizen's fare. The lead actress is not a good actress...
March 1, 2010
It hardly has anything to do with Rome! It's all set in New York... I was expecting to see some breathtaking shots of Rome, but the entire set in Rome was rushed. The story line was ok... but it could have been funnier. Not fabulous.
February 25, 2010
If you feel you must watch this movie, RENT it.
February 21, 2010
For the love of all things holy PLEASE save your money. OMG this was literally the worst movie I've ever seen. I'm a 20-something female who loves a good romantic comedy and went with my husband who also likes a good laugh. And laugh we did not. This is the cheesiest and most lame humour I've seen in a long time. Every joke was predictable, but in a "oh-god-please don't say..." kind of way and John Heder is just so wrong. Unfortunately for him Napoleon Dynamite was it for his career. Putting him in a movie is ratings-suicide. This is 100 minutes of my life I will never get back. I wouldn't even rent this movie. I'd rather rent a Pauly Shore movie.