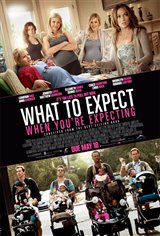 What to Expect When You're Expecting
118 Reviews
|
Write a Review
3.63/5
Based on 390 votes and 118 reviews.
17.65%

40.11%

30.48%

11.23%

0.53%
Please rate between 1 to 5 stars
Showing 1-10 of 118 reviews
September 17, 2012
it's just showing different ways of being pregnant, and deliver. there's no real scenario, it's blend and simple. it's like a typical american movie with nothing inside! too bad, because the cast was pretty good...
September 10, 2012
i expected it to be good . . . and it was! :)
September 9, 2012
cute, but not as funny as i would have expected.
September 7, 2012
nice.
September 4, 2012
it is just a ok movie
September 3, 2012
i very much enjoyed this movie. it was fun and cute. it dealt with some serious issues in a light hearted way. not an award winner but well worth a watch.
August 31, 2012
i thought it was a very movie with great actors in it. i loved cameron diaz in her role especially.
August 31, 2012
this movie is so funny and makes for a feel good comedy. i loved this movie because it is so real and down to earth, unlike a lot of those fake movies and shows out there like "16 and pregnant" and "teen mom." instead the idea of having a baby is not glamourized much like it is in hollywood today.
August 27, 2012
this movie is great! i've never had a child, and am not expecting, and i still found this funny! the script makes fun of holywood's "fun and easy pregnancies". it's a great cast and an awesome movie!
August 22, 2012
awesome - loved it.