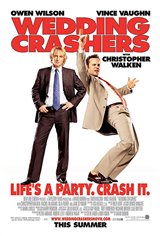 Wedding Crashers
286 Reviews
|
Write a Review
In Theaters: July 15, 2005
3.93/5
Based on 4770 votes and 286 reviews.
63.08%

8.27%

6.26%

3.40%

18.99%
Please rate between 1 to 5 stars
Showing 1-10 of 286 reviews
October 6, 2007
OMG!! Definitally halarious...5/5
July 30, 2007
Best comedy in years. Entertaning and funny. 5 Stars no doubt:P
June 27, 2006
this movie was the funniest of the year!!
February 23, 2006
Wedding Crashers is the funnies movie in like history that movie rocked besides.......Rachel McAdams is in it.
January 20, 2006
I liked it. It was It was typical Vince i loved it
January 9, 2006
Typical case where all the funny parts are in the commercials and the rest of the movie is a drama. Thought "40 Year of Virgin" was much funnier and endearing. This was a disappointment, however, Vaughn`s performance was a highlight.
January 9, 2006
It was the best.What a funnny movie.
January 7, 2006
THIS MOVIE IS HILARIOUS!! I WAS A WEDDING CRASHER TOO HAHAA!!!
January 5, 2006
weading crasher bites
January 4, 2006
Way too funny! Saw it 3 times!!!!!