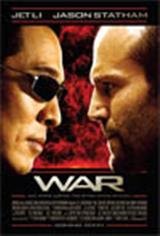 3.07/5
Based on 384 votes and 33 reviews.
Please rate between 1 to 5 stars
Showing 1-10 of 33 reviews
January 23, 2010
I really enjoyed War. I do not see why every one didn't. I have just brought 8 DVD's of Jet Li, I think he is the greatest star out there now.
March 7, 2008
This was a very cheesy movie, not very well choreographed and at the end i was honestly dissappointed.
December 15, 2007
This was a kick @$$ movie! It was different from the typical works of either actor, and i thought it was rigth on target. I cant seem to get it why people dont like the same thing, yet when people get something different thats well done in its genre, they dont get it. Its an action movie, and thats what i was watching it for atleast. Putting a personal story filled with anger, revenge, and a good twist, made this movie stand out from the typical, and it didnt have any wire-flying, strictly realistic action and fightscenes. I cant wait for the DVD, seeing as the ending they gave the movie.
October 9, 2007
Fairly typical Jet Li or Jason Statham gradual story action movie. Expectation vs result = 3.5 stars for a Jet Li movie or 4 stars for a Jason Statham movie. = 4 star rating
September 4, 2007
PLEASE DON'T WASTE $$$ SAVE IT FOR A GOOD ONE
September 4, 2007
Good movie, 2 good action starts playing something a little different.
September 1, 2007
I thought there would be more fighting! I guess with the story it wouldnt make much sense to get into a martial arts pose and charge at one another whenever a bad guy shows up. Thankfully there are many kinds of action in this one, chase scenes, shoot-outs, weapons and hand to hand fighting. I liked it, something new smart that these 2 actors don't do too often. And a nice twist that explains a lot of the mystery. If your open and keep up with the movie it will keep you entertained. A suprising new action thriller. Good Movie!
August 31, 2007
Boring, not much action.
August 31, 2007
What a suprisingly entertaining movie! This is a pretty dark, action-packed, vengeful movie.I wasnt expecting a fancy martial arts showcase, seeing as how assassins don't hold martial arts tournaments anyways. Jet Li as a mysterious assassin is different, cool and interesting.Jason Statham is built like a tough realistic fighter kind of guy, but seeing him go really dark into vengence was cool.This movie is done very well, with mostly smart action,twists and suprises that kept me guessing until the truth came out.Great movie! not perfect but its very entertaining and well worth seeing!