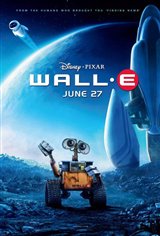 WALL•E
237 Reviews
|
Write a Review
In Theaters: June 27, 2008
3.9/5
Based on 1928 votes and 237 reviews.
56.71%

7.69%

13.73%

12.67%

9.20%
Please rate between 1 to 5 stars
Showing 1-10 of 237 reviews
March 31, 2014
I loved this one! Please watch the cute Wall-e rescue his friend Eva. Its adventurous as well as "romantic" (for me); just kidding! But I do recommend it to you gus to watch it!
March 1, 2014
The first hour of Wall-E is a crazily inventive, deliriously engaging and almost wordless silent comedy of the sort that Charlie Chaplin and Buster Keaton used to make.
February 16, 2011
this movie is a entertainer.
September 28, 2010
love blossoms between a hapless, earth-bound trash compactor and a sleek, air-borne entity probe. Who would've guessed? Not me! I won't spoil the ending, but bring a hanky!
March 14, 2009
Very depressing movie! Real let down from Pixar,however, Wall-E was a creative character but the movie had much to be desired.
March 1, 2009
EV-A & WALL-E= <3 & AWESOME MOVIE MAN!
February 17, 2009
I love WALL-E it's awsome, cool, and fun to watch and it's funny too. I watch it everyday can't wait tell you make another movie :):D=)=D.
February 6, 2009
Thought it was a very good movie...So cute. Best kids movie in awhile. Good for adults too!
January 2, 2009
it was a pretty good movie but they didnt talk much so it made it kind of boreing.but i do think that it would be a good movie for litte kids.
January 2, 2009
Its hard to believe you can fall in love with a cartoon robot but apparently you can. An adorable story. They should build men Wall-E's.