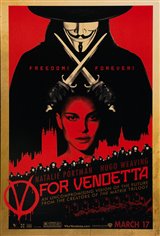 4.29/5
Based on 3896 votes and 432 reviews.
Please rate between 1 to 5 stars
Showing 1-10 of 432 reviews
May 13, 2018
That´s how the revolution should be done!
September 25, 2017
That would require some creative camera lingering, and sets that didn't look like sound stages. If this had been made 15 years ago -- as a mini-series -- perhaps some of the gritty integrity and enduring strength of the human spirit might have been retained.
September 25, 2017
Nowhere in this superficial yawnfest is the true understanding of revolution made manifest. Nowhere is the audience truly brought in to and made a part of V's tormented motivations or Evey's harrowing journey.
September 25, 2017
The screen story was already written, and the filmmakers ignored it, rewriting whole scenes, cutting out others, eliminating a good 75% of the story's power, meaning and resonance. The characters are shallow, empty husks of their original selves, and the pacing is abominable.
September 25, 2017
If you enjoyed Alan Moore and David Lloyd's graphic novel from 1988 -- as I did -- do yourself a favor and avoid this pale rendition. Alan Moore has disassociated himself from this film, and with good reason. A few of the character names are the same, and a couple of sequences bear a slight resemblance -- but that's it. The fire, the passion, the heart and soul that so infused the novel is completely absent.
January 22, 2016
This is a movie that I can enjoy once a year. Visually amazing. love the casting. If you've never seen, you must watch it at least once.
March 10, 2011
better than the usual movies made. would recommend to anyone.
May 21, 2009
My favourite movie of all time. Love how V thinks and blows stuff up to make a point. Very dope movie. And no one can kill or give a killer death treat to 1812 overture better than V.
November 21, 2008
although the hero was masked all the time, he succeeded in giveing the feelings, attitudes, emotions that at the end of the movie one can cry on his death. also the heroen has a craftsmanship in her facial expressions in the transformation of her character from weekness into strenght. well done... realy well done.
August 23, 2008
All I can say is that I fell in love with Hugo Weaving in this movie, too!!! I watch it over and over again. What a great movie!!