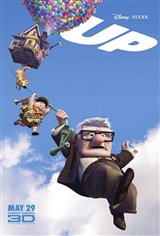 Up
127 Reviews
|
Write a Review
In Theaters: May 29, 2009
3.84/5
Based on 944 votes and 127 reviews.
59.42%

9.86%

5.51%

6.09%

19.13%
Please rate between 1 to 5 stars
Showing 41-50 of 127 reviews
June 26, 2009
Bad.
June 25, 2009
This movie was a very entertaining and had a lot of everyday things that were just so cute. The way the man rubbed his eyes when he got up in the morning was very realistic. I thouroughly enjoyed this movie. I would watch it over and over and over again. It was fantastic.
June 24, 2009
LOVE IT!!!
June 23, 2009
Do not go. Boooooringggggg.
June 21, 2009
Tragic movie, funny movie, slice of life movie... Doug the talking dog was the best part. Dwelt on the loneliness of the old man far too long, very sad. Great if you want to teach your kids about life, death and to pay more attention to their grandparents... 3/5
June 21, 2009
worst animated film EVER.
June 21, 2009
haven't found a movie that appealed to both kids and adults....this movie UNDOUBTEDLY does that. made me smile, cry, laugh my head off, and then smile again. what more can you ask for?
June 19, 2009
AMAZING!!!!!!!!!!!!!
June 19, 2009
It was a very good movie. Great for kids.
June 19, 2009
"Up" won't let you down!!!!!