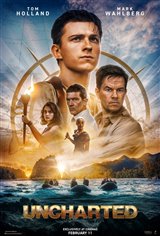 Uncharted
46 Reviews
|
Write a Review
In Theaters: February 18, 2022
On DVD/Blu-ray: May 10, 2022
4.25/5
Based on 170 votes and 46 reviews.
68.00%

10.67%

8.00%

5.33%

8.00%
Please rate between 1 to 5 stars
Showing 1-10 of 46 reviews
May 24, 2022
is Hollywood trying to make Tom Holland into Jackie Chan? It was predictable and clearly making a franchise happen. It was rather odd to see Wahlberg take a bit of a back seat and see Holland basically better at everything from theft to fights to smarts.
May 16, 2022
Exciting, funny and plenty of adventure! Better second time around, stayed after some credits and another piece of the film with a clue, may be a sequel is in the future, maybee!
May 3, 2022
Loved it, it made me want to go dust off the old PlayStation and play the game.
April 13, 2022
We loved it. Lots of action!
April 8, 2022
We all enjoyed this movie very much. Great adventure movie and cast
April 5, 2022
A good mixture of charm, comedy, adventure, action, and cheeseball. A great reminder that movies can simply be just for fun and not need to have this underlying, deep meaning. I loved it.
April 2, 2022
Tom holland is great is this movie, and no way home.
March 31, 2022
There is little chemistry here between all the characters and some really implausible scenes. Still it is a pleasant diversion and I was never bored. I do like Mark Walberg. Reminds me of Matt Damon at times.
March 29, 2022
Very entertaining
March 29, 2022
At times just pain silly and some implausible scenes. Definitely not in the same class as Indiana Jones or Lora Croft. That said the cinematography is great. Was never really bored.