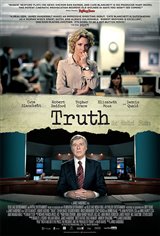 Truth
4 Reviews
|
Write a Review
In Theaters: October 16, 2015
R | Fantasy, Documentary, Drama, Horror, Sci-Fi, Thriller | 2h 1m
4.4/5
Based on 10 votes and 4 reviews.
80.00%

0.00%

0.00%

20.00%

0.00%
Please rate between 1 to 5 stars
Showing 1-4 of 4 reviews
February 4, 2016
Fascinating look at the storied military career of one of America's finest and most beloved presidents.
November 3, 2015
Loved this movie. -- great acting on all parts Robert Redford still has IT!!
November 2, 2015
It was ok at best. Redford is unconvincing as Dan Rather. It's over acted and is unnecessarily vulgar. The story is based on Mapes's book so of course it's told from her point of view and of course the inquiry is portrayed as a witch hunt. I expected a lot better. Wait for it to show up on TV.
October 31, 2015
Excellent movie. Acting is brilliant. Refreshing to see an intelligent, adult movie based on true life story. Robert Redford is at his best playing Dan Rather!